TAKING IT ALL (BOOK 3 IN THE SURRENDER TRILOGY)




WRITTEN BY: MAYA BANKS




REVIEWED BY: APRIL EPLEY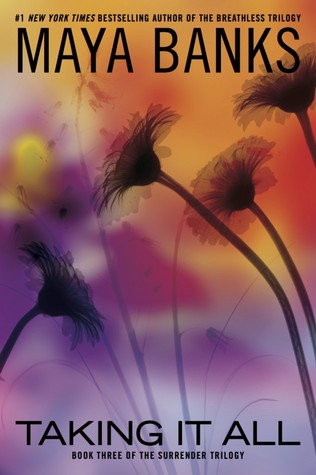 Okay, first things first, I love Maya Banks! I have read the first two books in the Surrender Trilogy and I really enjoyed them. I enjoyed this book also, even through the shocks it put me through, and I completed it. I am rating it 3 and a half stars.
I looked forward to reading this story of Tate and Chessy. After enjoying the first two books and loving the characters in those I jumped right in. Tate and Chessy have been married for a while now. Unfortunately the marriage is starting to become a bit neglectful in certain fun filled activities. The communication just is lacking so very much as Tate is trying to keep on building up his successful business. Gotta work to spoil the girl, right? Well there are other things needed there Tate! By the time Chessy finally breaks down and tells Tate of the sadness and how neglected she is feeling, is it too late?
Tate decides to take Chessy out to rekindle some flames. Unfortunately he ends up taking a freaking business call at a very very bad time! Come on TATE, really! You screwed up dude! This part of the book was a bit hard for me as I was yelling and screaming, and my family now thinks I am completely insane. You will have to read it to see why!
I loved how the characters I have grown to love in the first two books were involved in this book. I got to see what was happening with those I fell in love with. I enjoyed that. I loved that there was a HEA. It surprised me a bit. I do not think I could forgive so easily.
Thank you very much for this conclusion. It felt a little rushed at times, however it was nice to have closure to this series after keeping up with the rest of the books. Thank you Maya Banks!